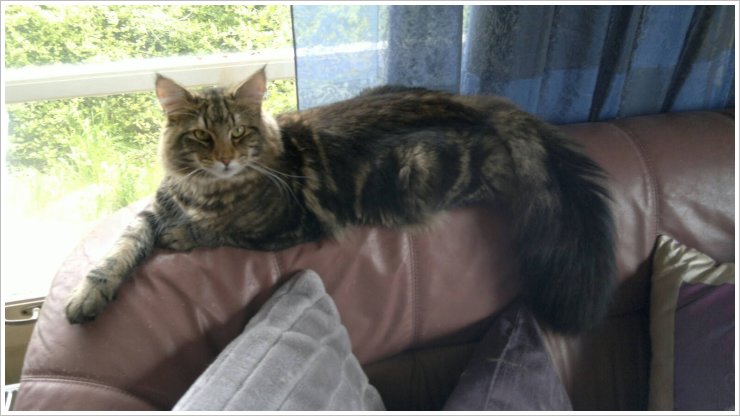 (N) Lucky Ă–ystein got his 3rd Ex1/CAC and made Champion at VERAKs show September 2013
---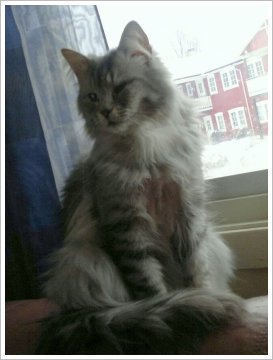 29.04.2013:
Finally, February 10th 2013, after 13 months fight, my dear CH NL*Love Explosion's Santana's Gitana was returned home. She was talkative and cuddly as ever when she came home, but she had forgotten handling, clawcutting and grooming, and 1/4 of her body was shaven. Photo is taken when she had been home a couple of days.
After meeting at the Primary Hearings in Swedish court, the Swedes and I made the following agreement; They return Gitana, delivered at my home, and buy Amoress from me, dates and conditions were set in court. Not exactly what I really wanted ..
Prior to the agreed date for the return of Gitana, both the Swedes and her breeders asked to buy her from me, which I of course refused. I would not then and will not ever sell her - at any price.
A Swedish woman, claiming to work for a cat-resque organisation, e-mailed me, begging me to let Gitana stay with the Swedes where she was well settled in and loved!? She also e-mailed friends of mine, urging them to influense me to let Gitana stay in Sweden.
The real victory was that the Swedes, in open court during the Primary Hearings, had to admit that I was the juridical owner of the 3 cats, and had no answer to the judge's question why they had not given them back to me
---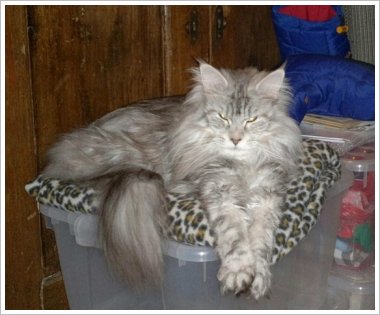 09.10.2012:
One whole year has passed since I, in a desperate situation, trusted my 3 dear cats with people in Sweden I considered to be my friends. They still refuse to give me my cats back.
What about the promises to me and three of my friends? Were their hugs given just to make me feel secure of their promises? 'I don't think these Swedes have any conscience at all, they are just thinking about themselves. I do indeed hope they'll come to their sences and return my cats.
Great thanks to Frida and Terje for letting sweet Ulla, silvertorbie maine coon, come live with me.
---
CH (N) Selteteigen's Karamell
Best Senior Category II 2011 in our Club